Our name used to be C&M Landscaping, but in the fall of 2006 we decided to change our name to C&M Residential. While we still perform lots of landscape related services including landscape design, installation, and lighting, we have expanded our offerings to include any outdoor improvement project – including concrete driveways. When your driveway is looking stained, worn, cracked, and broken, it is time to call C&M Residential and start the process for pouring a new driveway for your beautiful Roswell, GA home.
Installing a new concrete driveway is more than just one simple day of mixing and pouring concrete, it involves 10 major steps to correctly install a new, smooth, properly graded and leveled driveway.
Step 1 – Plan and Schedule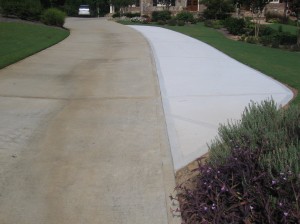 Your particular driveway will need its very own installation schedule. Each home will vary on its time table. Typically, installation and completion takes several days, and an additional two weeks or so for the new driveway to cure. Keeping this in mind, we will find a suitable time that works for you to complete your new driveway.
Step 2 – Remove the Old Driveway
The first step in your installation is to remove your old driveway. With loaders and/or jack hammers, we will break up and haul off your old driveway. If we are also performing sink hole remediation at the time of your new driveway installation, the old driveway will be used to fill the sink hole.
Step 3 – Prepare the Sub-Base
The foundation under the driveway is crucial to its strength and longevity. The sub-base must be strong enough to adequately support the new layer of concrete and it must be properly packed, smoothed, and graded to make the new driveway drain correctly.
Step 4 – Prepare to Pave
Now that the old driveway is removed, and the sub-base has been leveled and graded, the final preparations for paving can be made. Forms will be placed around the edge of the driveway to define the edge and shape of the drive.
Step 5 – Ordering Concrete
During the paving preparation process, we will also take final measurements to determine how much concrete is needed. Then, we will work with our suppliers to get the concrete ordered and delivered on the arranged paving date.
These are the first five steps to completing a new concrete driveway installation. Your old driveway has been removed, the area has been prepared for new concrete, and the appropriate amount of concrete is on its way. Check back with us next week to learn about the last 5 steps of completing your concrete driveway at your Kennesaw, GA home!