When you think 'South' the first flowers that come to mind are easily Magnolias, Azaleas, and Gardenias, but what about the lesser appreciated Camellia? These evergreen shrubs were commonly used in older landscapes, but are now less frequently planted. C&M Residential wants to put a spotlight on these beautiful plants for your Georgia Fall landscape.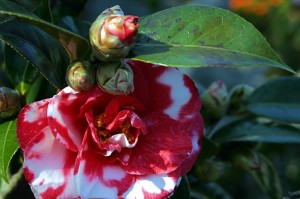 Camellias are evergreen shrubs with broad, rich-green shiny leaves about 2 inches long. They are most prized for their beautiful ruffly flowers that range in color from white to bright red. They are stunning in Fall and Winter when few other plants in your Georgia landscape are blooming. They can be planted in groupings or used as a single focal point near patios or in your lawn. Even during the warm months without their colorful flowers, Camellias are a beautiful accent.
The Camellia sasnqua come in a variety of heights that range from 1.5 feet to twelve feet tall. Taller plants are usually trimmed into trees while the lower growing specimens work as ground cover or shrubs. It doesn't matter where you're looking to add seasonal color and evergreen shrubbery to your landscape, there is a camellia cultivar that will work in your landscape design.
Start looking for camellia blooms here in Georgia around Thanksgiving. That is their typical peak season but it can be affected by the weather. As warm as it has been lately, we may see them peak a little later this year.
Creating a landscape design that is beautiful and full of color year round in Georgia can be a reality with camellias. Call C&M Residential today to schedule a landscape design consultation for your Marietta, GA home!