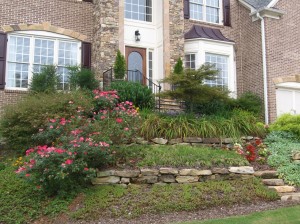 2014 is here, and with it comes a new list of forecasts and hopes for the real estate market here in Marietta, GA. The market increased dramatically in 2013 and we were all happy to see the come back after the several years of slow growth post the 2008 housing market burst. If you've been thinking about putting your house on the market, now is the time to make your move. C&M Residential has a few tips for you on how to make sure that you'll be getting top dollar for your Roswell, GA home.
Think about the top things that you will consider when buying your next home, and use that thought process to improve your current home's appeal to potential buyers. Typically, when a buyer comes to look at a house they approach aspects of the home in this order: curb appeal, entryway, kitchen, bathrooms, and storage. Many of these are simple to upgrade with just a few weekends of work and a reasonable amount of capital.
Curb appeal and entrances are our specialty. When you pull up to your home, think of it as a first impression. Does your home exude comfort? Luxury? Functionality for families? Is it simply attractive from the road? Each of these auras can be captured from just the right landscaping. C&M Residential can help you come up with a landscape design that compliments your home and those surrounding it – you want to stand out from the crowd just enough for someone to notice, but not enough that your home looks out of place. You want your landscape to function well for a potential family – whether that means installing or improving your irrigation or making sure that the handrails on your front porch aren't rotting and falling off. We can help you make your home a love at first sight for each of your potential buyers.
Call us today to schedule a landscape design consultation. We'd love to help you get your current home sold so that you and your family can move into the house of your dreams in Alpharetta, GA.