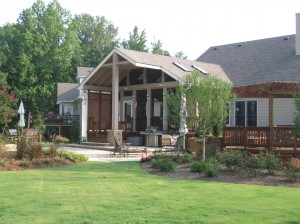 No luxurious home is complete without an outdoor room and landscaping to match the grandeur of the rest of the home. Outdoor rooms are another area that you can decorate to pull together the theme of your home. And, don't think of your outdoor rooms as simply your patio or porch – every aspect of your property plays a significant role in contributing to the overall design of your landscape.
Lighting
Think outside of the box when lighting your outdoor rooms – and make sure you spend time planning out this aspect of your environment too! You don't have to use the typically ceiling fan/light combos. Opt for more interesting options such as table lamps, chandeliers, sconces, and lanterns. These will cast light at different levels to highlight different aspects of your space such as the beautiful, hand tiled floor, coffer ceiling, or stone work on the columns.
Outdoor Kitchens
Adding an outdoor kitchen is essential for the entertainer. They could include cocktail and beverage centers, beer taps, refrigerators, warming drawers, and side burners. Don't forget the drop down plasma screen TV to watch the big game while you are grilling out.
Plants and Landscaping
You can make or break a good design with the wrong landscaping. Stick with a theme when landscaping your outdoor space. If you are using containers, don't use too many colors as they should blend in with the rest of the design and decorations. Don't plant a rose bush where it could overgrow its space and invade the sitting area of your guests – no one wants to be attacked with rose bush thorns!
To summarize, there are 3 key elements needed to add a luxury outdoor room to your home:
Lighting
Outdoor Kitchens
Plants & Landscaping
C&M Residential offers 20 plus years of landscaping and exterior design expertise. Call us today and let us help you create the luxury outdoor rooms that will allow you to expand your living space to the outdoors, with all of the comforts of the inside of your home.