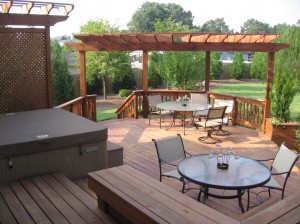 Pergolas are highly useful and flexible structures. They are more substantial than simply an arbor, but less confining than a gazebo which makes them a great option for just about any landscape. Many homeowners like the idea of pergolas, but don't know where they would look best in their Marietta, GA landscape. C&M Residential can help you choose the right installation space just by following and understanding these tips:
Pergolas can go literally anywhere you could possibly want one. They look great as an addition to the back of your home, or as a free standing structure.
An especially effective location for a pergola is over a paved area such as a path, courtyard, or patio.
These structures are custom built, and can fit any specifications that you need.
Similar to an arbor, pergolas look beautiful covered in an evergreen, flowering vine, or rose bush.
A pergola can be used as an addition to your home, or as a grand, main focal point for your landscape.
The closer a pergola is to your home, the more usage it will get. Unless, it is built at a 'destination' space such as your pool, outdoor kitchen, or fire pit.
Pergolas don't have to be huge, our custom carpenters also build small pergolas to serve as smaller elements of your landscape design.
When considering where to place your pergola, don't forget to take into account the vertical space that you'll be using. A tall pergola looks great in a narrow side yard.
Still trying to figure out if a pergola is the right addition to your Marietta, GA landscape? Give us a call to come out and help you create a beautiful outdoor space, starting with planning where to install your pergola.