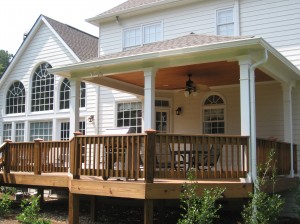 Pressure treated pine has been the product of choice for builders for years here in the south. It is readily available which makes it cheap and for years it has been a reliable product. But, in 2004 the ingredients used to treat the pine were changed which has lead to a less reliable product for some applications. C&M Residential only wants to use the highest quality building materials for our clients which is why we opt to use cedar instead of pressure treated pine when finishing a deck or screened in porch.
The Changes in Pressure Treated Wood
In the past, pressure treated wood was treated with chromated copper arsenate but as a result of voluntary changes submitted by CCA registrants, this treatment is no longer the standard in pressure treated pine for residential construction projects. Removing this one ingredient has made the lumber more prone to splintering, splitting, and warping over time. While it is still extremely valuable for structural aspects of construction where none of these problems come into play, it is not the best choice for finishing a deck.
Cedar Instead
There are all kinds of decking products available that are made of plastic composites, coated with plastic composites, or some kind of combination thereof – but they come with a price tag. Instead, C&M Residential recommends that our customers use cedar when finishing their newly constructed decks or screened in porches. Cedar is not treated because it contains a natural resin that protects it from the weather and pests. It is always availabe here in the south and comes at a reasonable cost as well. It looks great, accepts stain or paint if you so choose, and splinters and splits less than pressure treated pine.
C&M Residential has a reputation for providing high quality, reliable construction for our Marietta, GA clients. You can be sure that we will always help you choose the right materials for your new outdoor renovation or construction projects.