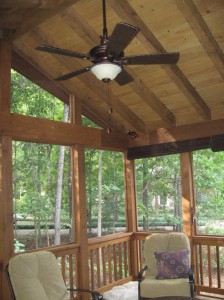 Adding a screened porch to your home provides you with more living space and more entertainment options. It can even change the overall look of your home–especially if your porch extends the entire length of the house, rounds a corner or involves an upper floor. Done properly, porch designs can add value to your home. Enjoy it now and profit later on, should you decide to sell. Whether you see your screen porch as a practical addition or an architectural statement, plan carefully! Good porch designs help you avoid these five common screened porch misgivings:
Screens: Fiberglass screening material may rip from debris blown against it, birds flying headlong into it and more. Avoid the need for regular replacement with stronger metal or special pet screens. Also take into account how the screens will look and perhaps block light—the color and opacity–from outside and inside.
Flooring: Wood flooring requires more maintenance than concrete, but concrete may cost more to install. If you love wood, you may need to power wash and re-stain it every couple of years. Stamped concrete provides lots of design/color options and combinations–but painting one color may be less expensive.
Proportion: Design in enough space for the intended use of your porch (room for tables, chairs, porch swings or more) without overwhelming the home's size and look.
Style: Do you favor sophisticated, minimalistic design or something more ornate? Ornate designs can potentially change–or clash with–the overall architectural style of the house.
Climate practicality: Design for your climate. In the South, for example, allow for adequate air circulation rather than creating a space that traps air. Porch designs should take into account the side of the home the porch is located in relation to the sun. You don't want the porch to be too hot, overly chilly and/or too shaded–you may never use it!
Screened Porch Designs: It's all about balance
Many more factors are involved in selecting screened porch designs. While it's a complex home upgrade, many potential problems can be "designed around" depending on your priorities. For instance, if a wide porch fits your intended use, perhaps you could place it on your Marietta, Ga home's sunny side in a hot climate. If the width would make your home too dark indoors, you might choose less opaque screen material. The experienced architects and designers at C&M Residential can help you balance your concerns to create just the type of porch you want.