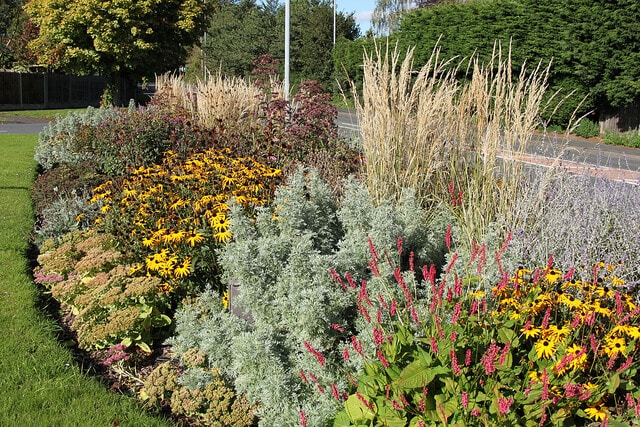 Many homeowners shy away from creating new flower beds in their landscape because it is truly back breaking work if you intend to dig up all of the grass and weeds. Herbicide is another option, but is not environmentally friendly and can cause damage to the flowers that you intend to plant. But, there is a great way to create a new flower bed in your Marietta, GA yard that doesn't involve one minute of weed pulling. C&M Residential walks you through the steps of how to create a flower bed that will be weed free and full of rich, nutrient dense soil.
Step 1: Pick a Place and a Shape
The first step to creating your flower bed is to choose where you want to put it. The best way to visualize your new flower bed is to use a rope or old hose to lay out the edges. Create it any shape you like and give yourself plenty of room! You won't be able to do much with a bed that is too small for your plants. Stay away from straight lines and corners. Create a shape with rounded edges and curves.
Step 2: Mow
Now you need to mow the grass in the area of your bed. Shorter is better.
Step 3: Newspaper
This is the secret ingredient to creating a flower bed without pulling up weeds and grass. Lay down several layers of newsprint on the entire area of your flower bed. Thoroughly wet down each layer of newsprint as you lay it. You should have about 3-4 layers of newspaper down when you are finished with this step.
Step 4: Compost
Now, cover the newspaper is composted manure and/or blood meal. These materials are high in nitrogen and will help speed up the decomposition process. Add about 2 inches deep of these materials.
Step 5: Mulch
This is the final step of your new flower bed preparation. Top off the compost with a heavy layer of chunky, hardwood mulch. This will hold the bottom laywers in place and discourage weed seeds from germinatine while the plot remains fallow. Once complete, re-wet the entire area again.
Your new flower bed will be ready for planting in about 60 days. Check it by digging a few small holes and checking that the newspaper is gone and the grass has been smothered. Now, you'll be ready to plant!