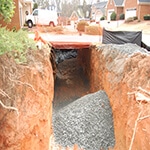 Your home has been settling unnaturally and you've discovered that you have major foundation and structural issues. If you live in a home in the Marietta, GA area, one of the most common reasons for these foundation problems is a sinkhole. But, what does that really mean and how do you get it fixed? C&M Residential has been working in sinkhole remediation and foundation repair for 40+ years, these are some of our tips on how to address your sinkhole issues.
Have it Inspected
Contact your insurance company and explain to them your suspicions. They will send out an inspector or engineer to diagnose the true source of your failing foundational issues. If they do determine that it is a sinkhole and approve the repair, your next step will be to research a company to work on the project.
Who to Look For
Choosing the right company for your sinkhole remediation project is essential. Here are is a short checklist of things you should look for:
Licensed, bonded, and insured
Many years of experience
Positive reviews
A thorough understanding of sinkholes, their different types, and how to address them
NEVER use a company that simply fills in a sink hole with more dirt. All sinkholes need to be dug out and filled with appropriate materials.
Please call C&M Residential today for an inspection and estimate of your sinkhole remediation project in Marietta, Roswell, Alpharetta, or surrounding areas. We look forward to helping you solve your sinkhole problems!