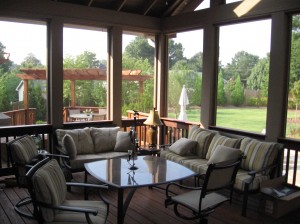 Fall is by far the best season to spend outdoors. The crisp days and cool evenings are such a relief from the hot Georgia summers. If you are asking C&M Residential Services, these are our top 3 ways to spend our time during fall.
Next To the Fire
Outdoor fireplaces warm up even the coolest of evenings. Wrap up in a blanket and pile up the wood. With a hot cup of coffee, cider, tea, or cocoa and the company and conversation of good friends, this is easily the best way to stay warm when the sun goes down and the temperatures start to drop.
Cooking Up a Feast
We just want to spend every moment we can outside, that's why we love outdoor kitchens. They are a great place to host your favorite football viewing party or cook up a delicious picnic on Sunday afternoon. Outdoor kitchens can include every amentitiy you can imagine – sinks, dishwasher, oven, stove top, grill, fridge – whatever you need to cook for your family. We can build outdoor kitchens as simple as a place to grill, or include everything a 5 star chef may need to whip up something delicious for dinner.
Playing in the Yard
These days when kids can barely unplug from the latest piece of technology, and our phones are constantly buzzing, vibrating, or ringing, it's time to just get outside and play in the yard! Your beautifully manicured landscape with plush green grass underfoot and the perfect space to play a little game of flag football makes a great escape from technology.
So, we want to know – what are your favorite ways to enjoy the fall weather in Georgia?