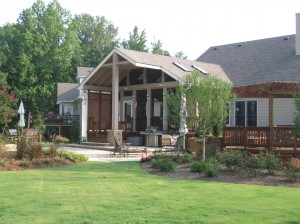 Have you made your list of New Year's Resolutions for 2015? It's that time of year when we start thinking about how we can set new goals and improve our lives in this coming year. If you have on your list to improve your home's value through home renovations, C&M Residential has some tips to help you get the most out of your invested dollar.
The Small Things
Upgrading the details of your home and simply spending some time making sure everything appears well kept and clean will offer you a 100% recoup in cost. Think about things such as:
Replacing patio cushions
Upgrading light fixtures
Installing new handles and locks on doors
Cleaning and pressure washing patios, walkways, fences, decks, and steps
Larger Renovations
Once the details are taken care of, you should consider investing in some larger renovations. Making the right choice on what amenities to add to your home will determine the successes of your investments. Looking forward to 2015, these are going to be some of your most successful choices for improving your home:
Repainting your home's siding and trim
Replacing old vinyl gutters with stainless steel or copper
A new wooden deck will add to the outdoor living spaces and you can typically recoup 81% of your cost
An investment in landscaping can deliver a +110% return
After all of these renovations your home is going to be picture perfect! It will be a great space to spend time with family, host parties and events with friends, or list for sale during the upcoming year!