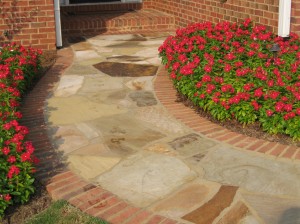 Tired of the same, boring look every time you pull into your driveway? Ready to spice things up before spring arrives? C&M Residential has two easy, budget-friendly ideas that will make your whole landscape look fresh with just simple changes.
Replace Concrete with Additional or Upgraded Materials
Concrete is the cheapest spend and also looks cheap. If you want to make a huge impact on your property's curb appeal, you could consider removing old concrete walks or patios and replacing them with pavers or natural stone materials. Your new walkway, retaining walls, and/or patio will give your property an upgraded look and last longer than concrete which will eventually settle and crack. If you want to add some flair to your landscape bed edges, install edgestone materials, or decorative retaining walls to compliment your home or other hardscaping. This may be the most expensive improvement, but it definitely has the most impact.
Plant Annuals, Bulbs, and Add Seasonal Pots
While a great landscape design can add color and multi-season interest, adding annual flowers, bulbs, or seasonal pots for even more vibrant color is a great way to make your front yard landscaping look like no other in your neighborhood. If you don't feel confident in your ability to pull this off correctly, landscape designers can create a spring, summer, and fall plan by adding your favorite colors through using annuals, pots, and bulbs. It's possible to have color from March through the end of November if this is planned carefully.
We'd love to help you with these two projects. Ready to move forward? Call us at C&M Residential for an estimate, today!