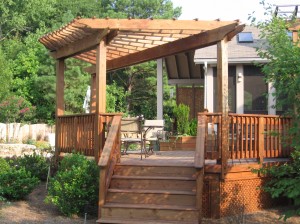 Before the last of the beautiful spring weather slips away, invite your friends and family over for a party on your patio! Help things go smoother with these tips:
Pre-Planning
So you've decided to host a backyard bash, but what kind of party are you going to have? A cocktail party, relaxed lounge session with drinks and sweets, an informal BBQ, or sit down evening meal? Decide now how many people you will invite and how you will let them know of the date and time. Giving your guests ample time to arrange their schedules will help make sure that you get the turnout you're hoping for.
Party Basics
These are some of the must-haves for a party that everyone will enjoy:
Music
Pick a selection of great tunes to match mood and ambiance of your soiree.
Lighting
Speaking of mood, lighting your patio can really help to set the tone of your event. With many options on the market, you can include candles, paper bag lanterns, or a patio fire for excellent ambient light.
Seating
Be sure to arrange for plenty of seating that enables your guests to mix, mingle, and relax comfortably for conversations throughout the evening. We recommend staging several areas for your guests to congregate in as your party happens, from a beginning bar area to a late-evening lounge. Think of unconventional ways for people to mix like tossing out a few blankets on the ground!
Temperature Control
Ensure that fans to circulate air, misters to help cool off your patio, and shade is readily available to keep your guests comfortable regardless of temperature.
Décor
This field is entirely up to you, but adding a little bit of umph to an occasion can take your party up a notch. Adding fresh flowers or linens to a tablescape can help add intentionality and beauty to your party.
Food and Drink
By far the most important category, we recommend planning your menu out in advance and making it easy and delicious to execute. Don't be shy about asking your guests to contribute one of their favorite dishes as it can help relieve you of the burden of providing all the accoutrements but also it can be a great way for guests to invest and feel a part of the party!
Wishing that you had a patio that could accommodate this type of event? We can help you with that too! Call us today for an estimate and design on your dream party patio.