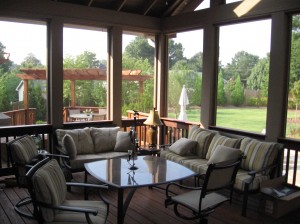 Summer in Georgia can be absolutely unbearable if you don't know how to properly keep yourself cool. To help beat the heat and enjoy your outdoor spaces even in the hottest of months, install cooling accessories. You have quite a few options available for keeping your patio temperature lower so you can turn it into an extension of your home.
First of all, consult with us about the variety of ways to keep it cool this summer. We can help you with all of the solutions in this post.
The most common way to cool off your outdoor space is with a fan mister. They are an easy way to reduce the temperature on your patio. Misting systems work by cooling the air through the evaporation of water when it hits hot air.
Create some shade with creative architecture. Pergolas, gazebos, awnings, and umbrellas will cast cooling shade on your seating space. You can even combine any of these with a misting system to get the ultimate cooling experience you want.
Keeping your backyard patio cool during the summer is easier than you think. For only a small investment, make your investment in your outdoor spaces return more value through all the months of the year.