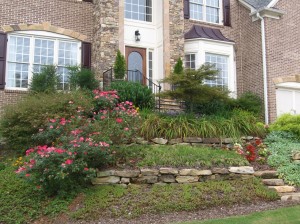 Your front lawn is the very first impression your visitors get when they come to your home. You want it to be a picture that reflects your personality, family, and lifestyle. You want it to be inviting, warm, and welcoming. Most importantly, you want it to be something that you can maintain with the time and energy that you have available, without overwhelming yourself with an abundance of yard work. When you're trying to design your front yard, keep these items in mind:
For large areas with possibly too much lawn, try placing an island planting bed or two in the front yard. It will cut down on the amount of lawn used, take up some space, and add some unique shape to the lawn.
All Season Interest and Color – Use plants with different bloom times within a framework of evergreen or semi-evergreen shrubs and plants. Do a little research. There are many plants that do well in extreme climates and even bloom in the Winter. This will help create curb appeal and interest in the front yard all year long.
Landscape lighting is often an overlooked afterthought that should be used in most landscapes and yards. Besides the safety factor they create, it also creates a sense of elegance and invitation.
These are just 3 simple things that will help you design a front yard that you love and that is functional. It will welcome your friends and family over fun an afternoon of visiting and making memories.
To get some help designing a front yard that will be everything you envision and more, give us a call at C&M Residential for a design and estimate to fit your home.