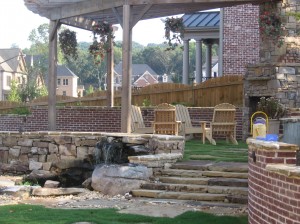 Planning and building beautiful and functional patios, like most areas of landscaping and garden design, does not have to be expensive. Of course, the source and type of materials you use for your patio will determine the biggest part of the cost.
Before you can get any ideas of cost of creating your patio, you'll need ideas, plans, and a direction to go in. A great place to start is our gallery of patios and before and afters of outdoor home renovations we have completed in and around Marietta, GA.
Deciding on flooring materials is the first step. Your choices range from inexpensive gravel or crusher fines to pavers and flagstone to decorative concrete ideas. Get an idea of the sources, availability, and cost of your flooring choice and see if it fits into your budget plan. Generally, pavers and natural flagstone make up the majority of flooring materials used with natural flagstone being the least expensive and easiest to install. Often, these materials can be found as discarded from refurbished projects. And depending on where you live, the flagstone may be gathered in the field with a permit from your county or state. And old used pavers are one of my favorite materials for patio floors as the worn look makes them look so established and rustic.
If plants are an inclusion into your patio plans, there are a lot of ways to save money in choosing landscaping and garden plants. Starting with smaller plants and even using native plants will help stay within the budget.
If you've planned ahead and taken your time in finding the right materials to this point, you may just have enough left in your budget to finish your patio or small garden courtyard just the way you envision it.
For help with a complete outdoor renovation or patio design, call C&M Residential today!