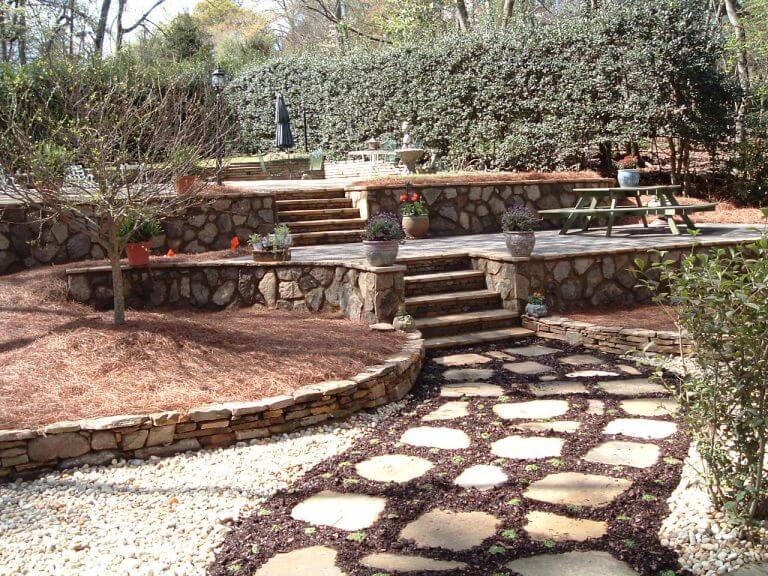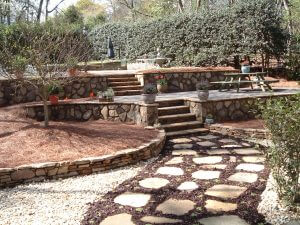 In the north Georgia area we enjoy our rolling hills and undulating landscape. It makes for a more interesting design challenge as you must take into consideration not only the maintenance, look, and hardiness of the plants you choose, but your design must also me mindful of erosion control and water runoff.
Erosion Control On A Steep Grade, Slope, Or Hill
One of the most common methods of erosion control on steep slopes and hillside landscapes is in terracing with either stone or concrete block retaining walls. A common practice in farming and landscaping for thousands of years, terracing levels out the steep ground by cut and fill methods of transferring the soil and holding it in place with hardscapes.
Retaining Walls
Retaining walls are some of the most common methods of terracing steep hillsides. Most of these walls are made of pre fab concrete blocks that are generally available at home centers and garden outlets.
Rock Garden Walls
While the pre-fab concrete blocks are the preferred choice of most home owners and do it yourselfers, there are those who prefer to create walls out of natural stone and rocks. And while building rock walls is generally a job best left for a professional, it's not entirely out of reach for the real hands on do it yourself type.
Watering On A Slope Or Hill
How To Water Lawns And Plants On A Steep Grade Or Hill
Some elements and methods used for landscaping steep slopes will be dependent on other elements to function properly. A hillside covered with deep rooted lawn turf will most usually keep the landscaping in place. However, if the proper watering methods aren't used to promote deep saturation, the water will run off and the lawn will die.
For help creating a new landscape design for caring for the one you have that is situated on the a steep slope or hill, please contact C&M Residential today!