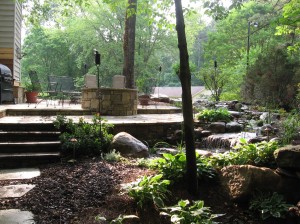 This is the continuation of our blog from last week as we discuss the causes of surface roots, and solutions on fixing them with a long term solution.
Once the roots appear on the surface, there is little that can be done to get rid of them without hurting the tree. You can possibly prune off the visible roots but the damage to the cut roots and the fine feeder roots surrounding the area can harm or even kill the tree. Pruning the roots should be limited to situations where the roots are breaking foundations, sidewalks, driveways, and anything they shouldn't be.
There are a few common approaches to "dressing up" top root areas. However, due to these surface roots becoming like hardwood as they grow out of the soil, you have to be careful covering them or they could possibly get a fungus, disease, or rot. The best cover is a few inches of course mulch or bark chunks. Finer mulches are usually ok, but don't allow as much air circulation around the roots.
Be creative. Build a small retaining wall or edging around the area to contain the mulch and create a planting bed. Add some ground cover plants and the problem disappears while adding a new dimension to your yard and landscape.
In general, work to avoid simply covering the roots with topsoil. This will end up killing the whole tree or the roots will simply grow to the surface of your soil again.
For help in addressing a tree with surface roots or the damage the have caused to your driveway or side walk, call C&M Residential in Marietta, Ga today! .