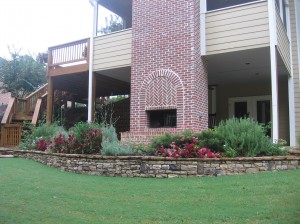 Whether you have a big yard or just a tiny patio or deck, the key to creating livable outdoor rooms is executing your plan step by step. Creating a livable outdoor space doesn't have to be overwhelming or expensive. The following will help you make your outdoor space a functional and aesthetically pleasing addition to your home.
Where to Put Outdoor Rooms
Once you choose a potential location, go into your home and look out at the space. You want your new outdoor room to feel like an extension of your home. Outdoor rooms can be anything from a screened porch to a landscaped area with furniture. If the area is independent from the house, you'll want to use plants or hardscaping to connect it visually with your home.
Defining the Space
The best way to define an outdoor room is with the activities that will take place there. You can use outdoor living spaces to cook, dine, entertain, play games, or just relax. You don't need a huge yard to make an outdoor room, even a tiny side yard can be turned into something special with the right decor.
Decorating Outdoor Rooms
Flooring – The flooring material you choose defines the outdoor room. You should always have some type of floor such as concrete, stone, or a wood deck.
Plants – Plants bring life to an outdoor room, and soften the hard edges caused by concrete and stone features.
Fireplaces – Fireplaces can extend your use of the outdoor space by many months in colder climates.
Water Features – The sound of a water feature makes an outdoor room a serene place to relax. If you don't have the space or budget for a fountain or pond, a tabletop fountain is an excellent choice.