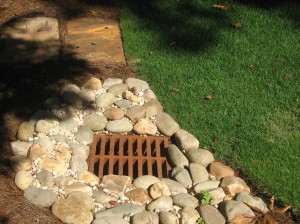 French drains and grading can help keep the stormwater or irrigation runoff away from your buildings and direct it toward a desired location. You can also use low-impact development techniqueslike flow-through planters next to the building, bio-swales, infiltration planters, disconnected downspouts, splash basins and green roofs to keep water from damaging structures.
For washed-out or sunken areas, you can divert the water to its intended location or install materials that will help with the soil erosion. Stones like riprap or rover slicks are a great solution. Plants, trees and grasses can also stabilize the soil.
You can install trench drains in walkways and other hardscape areas to prevent standing water and the potential damage caused by it. Installing permeable pavers also helps eliminate standing water.
Improving Plant And Soil Health
Drains and grading can also help with the health of declining plants, in addition to installing turf and grasses around the plants that will help absorb and slow down excess water.
Water washes away soil, exposing roots and creating low areas in the landscape. You can add materials like mulch around plants and beds. Mulch will help absorb water and keep soil from washing away. You can also grade the landscape in a way that directs the water away from these plants and low areas.
When you reduce the amount of standing water on your property with drains, plants or other materials, you'll help eliminate breeding grounds for insects and also reduce the amount of silt left on structures.
Does Your Commercial Property Have Poor Drainage?
You need to take action as soon as you notice any drainage red flags to prevent further damage.
Start by calling a commercial landscaping company, such as C&M Residential, to create a custom stormwater management plan for your commercial property.