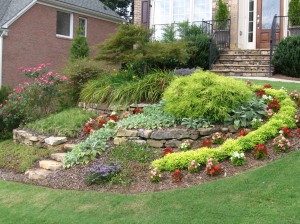 Do you want to have the most amazing front yard landscaping on your block? Do you wish that people slowed down to look in wonder and envy? A well-planned landscape design and features not only makes your property look beautiful, but it can also increase your property's value and help you sell your home quicker should you ever find yourself in that position. Whether you are planning to stay for years or looking to move sometime in the next few years, here are some great ways to get the best front yard on the block.
Fix Your Landscape Design by Planting Correctly
If your plantings are still small, some of them may be able to be salvaged and re-used. However, if they are overgrown pass the point of shrub trimming or aren't the best species, you may need to tear them out and start all over. Do yourself a huge favor and hire a professional landscape designer and a landscaping company that knows their stuff. They will pay particular attention to the proper placement of plants so that they have room to grow without encroaching over walkways and window sills and into other nearby plants. A good landscape design will create multi-season interest with color throughout the year. There will be a balance of evergreen plants as well as varieties that flower or display fruit throughout the year, and provide great color in the fall and winter. Landscaping companies can create layers in your landscaping with taller plants in the back, layering down in height to the front so that multiple textures can be seen at all angles. They can even plant some unique trees, shrubs, or flowers that can be a little bit different from your neighbors.
Fix Your Ugly Lawn with Lawn Care Treatments and/or Seeding
Fixing an ugly lawn is one of the easier things you could tackle. Whether you attempt to do the work yourself or hire a lawn care company, be sure to apply the proper treatments for weed control, fertilizer, insect control, and disease control to remedy problems. Thicken your lawn up by having it aerated and over-seeded or even slice-seeded if it's very thin. In some instances it may be a good idea to kill off your lawn and completely renovate it. If you don't want to wait the usual 6-12 months for a mature lawn you can even install sod for an instantaneous lawn. Just be sure to water your lawn correctly so it can establish and stay looking great. If you don't have the time to drag sprinklers around, you can even have a landscape contractor install an irrigation system for you to automatically water your lawn when it needs it.