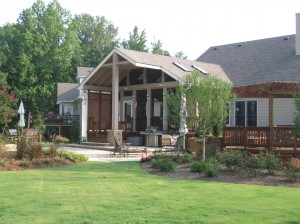 Do you have a little one that's growing quickly and looking for something fun to do outside? Make your landscape a kid friendly place for them to play. Here are some tips on how to integrate your child's play area, while maintaining your luxurious landscape.
Set the play set or play area to the corner of the yard. Make sure it's in a place where you can supervise from your window, if you'd like, but not in the middle of the yard so it will take away from the rest of your outdoor living space.
Create a good base for the kids to play in. P-stone will not only keep the kids from destroying the grass, but will also help keep your property well drained.
Along the back of the play area, build a small garden. Not only will this beautify the space, but it will also give your children a way to learn about nature, gardening, and growing their own food.
Not sure on where to fit in a play set? They come in all shapes and sizes. Or, we can even design one custom made for your landscape, space, and children's dream play space.
While you're designing the perfect space for your kids, don't forget about yourself! Give yourself a patio to relax and enjoy while the kids romp and play. For entertaining, outdoor kitchens are a great way to host a group of people in any outdoor space for your parties.
For a custom landscape design that will suit all of your family's needs, call C&M Residential today.