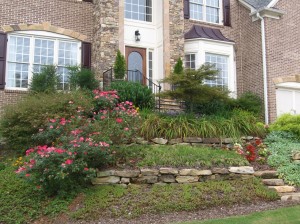 Here in Marietta, GA and further north to our neighbors in Canton and Woodstock, many people have landscapes with hilly front or backyards which make it difficult to design a landscape that is going to be both beautiful and functional. But, C&M Residential has 40+ years of experience creating beautiful and functional yards with whatever the lay of the land is. Here are a few suggestions on ways to get around your hills and make them work for you.
Stacked Stone Walls
Instead of creating a raised wooden deck, a great alternative is a patio of pavers with stacked stone walls. This creates the visual barrier of a patio, but incorporates the design to blend into the lay of the land.
Terracing the Landscape
Instead of having to build a sloped walkway, a great way to get up and down the hills in your yard is to create a terrace. The walkway with steps allows you to get up and down your hill in a comfortable way.
Raised Beds
Rather than trying to create a flower bed on a slope where the top soil, mulch, and delicate annuals will have a hard time thriving, create a raised flower bed with stone walls. This way, you'll end up with a flat area to plant in without having to grade into your hills.
Do you have a difficult landscape that you're wanting to improve and make more usable for you and your family? C&M Residential can help you come up with solutions that fit into your budget.