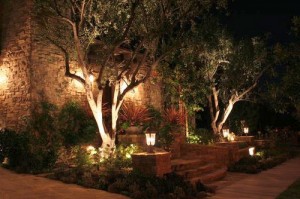 The days are finally getting longer – minute by minute – but there are still plenty of hours in the day that you could be enjoying outdoors if you have appropriate landscape lighting. Outdoor lighting gives you the opportunity to extend your hours of outdoor enjoyment, but that's not all. Adding lights to your landscape has multiple benefits and increases the value of your Marietta, GA home. C&M Residential discusses the top 5 things that our clients love about having newly installed landscape lights.
1. Security
Outdoor lights can be installed with a manual switch, timer, photo sensor, or motion detector. Lights that sense motion turn on when they see something move in front of them. If a burglar was going to try to attack your home in the dark of night, they would have a hard time avoiding this simple, but extremely effective deterrent.
2. Safety
Obviously, if you can deter theft, burglars, and other unwanted guests from perusing your home in the dark, that's one way that outdoor lights increase safety of your home but what about when you are outside walking around? You could easily trip on uneven walk way, run into a box you weren't expecting to be left on your sidewalk from a delivery, or slip on your stairs.
3. Decor
Place a light on your favorite features of your home such as your gardening, or treeline areas. Add some ambiance into your landscape with lantern lighting and faux candlelight.
4. Curb Appeal
Landscape lighting makes your home appear warm and inviting. It also makes your property look well-cared for and therefore increases property value.
5. Function
Adding lighting to your outdoor area allows for you to use the space long after dark. Adding lighting invites people to stay long after the sun is down and the kids can play longer in the yard. Adding that ambiance adds extra space to your home in the summer months to spend with family and friends.