Nothing is worse than stepping onto your lawn, and into a gaping hole that you know wasn't there yesterday. You've just found yourself one of the many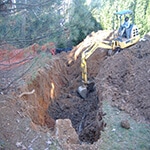 sink holes that occur around the Marietta, Woodstock, and metro Atlanta area. So, how did it get there and what are you going to do about it?
When neighborhoods were developed, developers would often dig trash pits through out the development area and simply dump any of their landscaping debris into the pit, then cover it up when they were done clearing. Originally, this didn't pose any problem. It was organic matter going back into the earth. So, if that was the case, why are these old trash pits causing so many problems now?
Over time, the organic debris began to decompose. As it decomposes, of course, it softens and collapses. So imagine a hole full of trees that you covered up with a layer of dirt. Now, all of those tree are beginning to collapse and the dirt on top is settling down deeper and deeper into the hole allowing everything on top of it to collapse as well.
This is exactly what is happening in your sink hole.
Sink hole remediation is a job that requires professionals like C&M Residential. We will make sure the sink hole is completely filled in so that you will not have this problem in the future. While we work, we will do everything we can to support any current structures and prevent further damage to your home or property.
Do you think you've recently found a sink hole? Call us today – don't wait! The longer you let your lawn fall in, the more risk it poses to potentially damage your home or driveway.