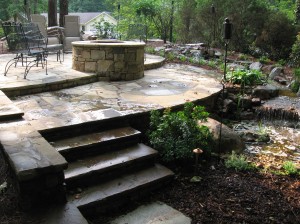 While landscape design trends can't change season to season like the fashion runways do, they do make slight advances each year. What's important to remember is that landscapes are usable spaces, they are an extension of your home, so as homeowners change they way they live, work, and play, what they want to see in their landscape will change accordingly. Over the past few years, we've seen much 'modern' design in the landscape, but new trends are moving back to the 'au naturale' look.
Natural Materials
We anticipate seeing more requests for real materials in landscape design. Instead of trying to go with plastic or concrete, using more stone, wood, or glass to accent your outdoor design. The 'mod' is beginning to be overdone and as much time as each of us spend in the office, staring at computer screens and cubicles, homeowners want to come home to a more organic, real feeling space.
Hyperlocalism
How many times have you seen 'locally sourced' in the last 4 days? Too many to count, we bet. Consumers are now looking to their local regions for materials and plants. This is great for the environment and the economy. Planting selections that naturally grow in an area is going to lead to a lower maintenance landscape.
Lawn Replacements
Have you gotten tired of mowing your lawn? You're not the only one. Home owners have started going alternative on their landscapes! We've seen homeowners put in woodland scapes or plant grass alternatives that don't require mowing.
Something Old, Something New
Gone are the days of having to pick one theme and stick to it no matter what. Now, we are seeing themes mixed and matched with no rules applied. New style isn't about being all 'mod' or all 'vintage,' but balancing pieces from your favorite themes to make a comprehensive design.
Which of these design trends sparks your fancy?