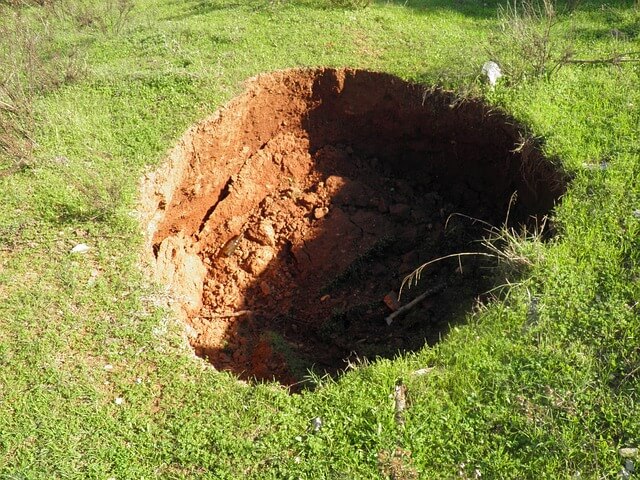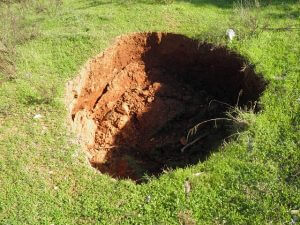 You may be familiar with our landscape design and maintenance services, but did you know that one of our specialties is sinkhole repair? Sinkholes are surprisingly common throughout metro Atlanta, and can cause major problems for homeowners if not addressed quickly by a qualified sinkhole remediation company.
If you've noticed any sinking or settling issues around your home, the first step is to call us! We get a lot of calls asking us to fix sinkholes, and most of the time these callers have no idea what is causing the issue. We will ask a series of questions about the home, the site, and the hole to narrow down what the most likely cause of the sinkhole may be. Depending on the answers to these questions, we'll be able to ascertain whether you require an in-person visit for a site evaluation. Check out these common causes of sinkholes, and see if any of them sound like your situation:
Debris Pits
A large percentage of sinkholes in metro Atlanta are caused by buried trash and debris pits, either from construction or from the days before trash service when it was common to bury your trash. Over time, the space between buried tree stumps, construction waste, and/or garbage becomes compacted, creating a cavity underneath the top layer of ground or foundation, which eventually starts to sag (or even fall through) causing a sinkhole. Another common cause is erosion, with water washing away the layer of limestone or gypsum on which the structure is built.
Old Wells
Many of today's subdivisions are built on land that was formerly farmland, often with a homestead that got its water from a well. Also known as a "hand dug," these wells are often filled in improperly, leading to eventual failure that can cause a sinkhole up to 25 feet deep!
Septic Tank or Field Issues
It may seem counterintuitive, but if you have a sinking area caused by a septic tank, you're better off calling us than a plumber. The underlying cause is unstable soil, not plumbing, so be sure to call us if you think you've got a septic issue in your yard.
Sewer Line Failure
Septic tanks aren't the only culprits when it comes to causing sinkholes. If you don't have a septic system, you'll have a sanitary sewer line that carries water from the washing machine, sinks, toilets, etc. to the county's sewer system and on to a water treatment plant. Generally there will be a line running from the house to the street, and this pipe is the homeowner's responsibility to maintain. Unfortunately, the connection between the homeowner's 4" line and the county's 6" tap often fails, resulting in either a sinkhole, or sewer backup into the house.
Tree Stumps
Tree stumps are the only naturally occurring cause of sink holes, and no one knows when buying a home where trees used to be on the property. Oftentimes a tree stump is buried, but due to termites and other organisms, the wood of the stump deteriorates more and more. In other cases, the stump may have been ground down, but is still buried, and again this is just a sinkhole waiting to happen. Either way, once that hidden mass of rotten wood decomposes sufficiently, it's going to cause a sinkhole.
Soil Failure
This simply refers to when soil has been moved around, but because of a host of issues that include soil type, soil conditions, poor workmanship, etc. can result in a "sink hole." Generally soil failures happen adjacent to homes with basements, atop stormwater pipes and sanitary sewer pipes, behind retaining walls – really any place where a substantial volume of soil has been moved around.
It's important to us that we save you money and time by repairing your sinkhole correctly the first time. We see all too often that a client has been charged hundreds or thousands of dollars for a job that doesn't solve the underlying problem. In order to get it right, we have to figure out why the area was initially dug up. Once we understand how the sinkhole formed, we provide the right sinkhole repair services to get your home and yard back to normal!