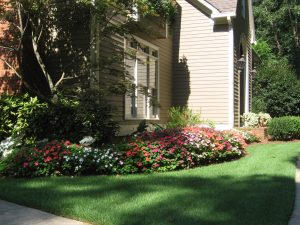 'Tis the season for spring cleaning! While you channel your inner Marie Kondo or Martha Stewart (or the cleaning and organization guru of your choice), don't forget that the outside of your home needs some spring cleaning as much as the inside. Stumped on where to begin? Don't worry, we've got you covered here at C&M Residential Services. Keep reading to learn how to get your yard back in shape with our spring landscaping checklist.
Spring Cleaning For Your Yard: A Checklist
While spring (and pollen) are in the air here in metro Atlanta, you shouldn't just jump right into planting flowers. Give yourself a well-prepared canvas to work with by taking care of these seasonal tasks to prepare for spring. Once you've got the basics out of the way, you can get down to the business of selecting and planting annuals, selecting outdoor decor, and just enjoying your beautiful outdoor spaces.
Cleaning Up Debris
After cold winter rain and winds, your yard probably has its fair share of debris that needs to be cleaned up, from fallen limbs, sticks, and pinecones to dead leaves, plant matter, and past-its-prime mulch. (Our basic landscaping service includes this type of seasonal cleanup, as well as lawn mowing, edging, blowing, weed control, and fire ant treatment.)
Landscape Design and Planting
Once your spring landscaping cleaning is underway, you can start to think about your landscape design goals for the season. Our Premium Landscape Maintenance includes all of the tasks you should do to get ready for spring and summer, including:
Mulching, tree and shrub pruning, fertilization

Pest management

Systems maintenance of irrigation systems, landscape lighting, and drainage systems

Annual flower design, installation and maintenance

Seasonal turf care—lawn aeration, top dressing, overseeding, and lawn repairs
Pressure Washing
Start the year off fresh by pressure washing your patio, walkways, driveways, pool decks, and other areas where concrete can collect dirt, moss, and mildew. Don't have the time, equipment, or knowledge to do it yourself? We offer pressure washing as one of our many residential landscaping services.
Maintaining Hardscaping Features
Cement isn't the only thing that needs a good annual or semi-annual pressure washing. You should also clean and repair any of your hardscaping features, including:
Cleaning and sealing masonry and pavers

Cleaning and staining outdoor wood features like decks, fences, arbors, pergolas, gazebos, and fences

Inspecting, re-grading, and weeding/cleaning

retaining walls

; filling in eroded areas; refreshing or replacing strategic plantings
We offer Marietta lawn care services to keep all of your home's outdoor spaces looking great, so you can enjoy the full potential of your landscaping. If you'd like an estimate on a project or ongoing services, give us a call at 770-509-5191 or contact us online.