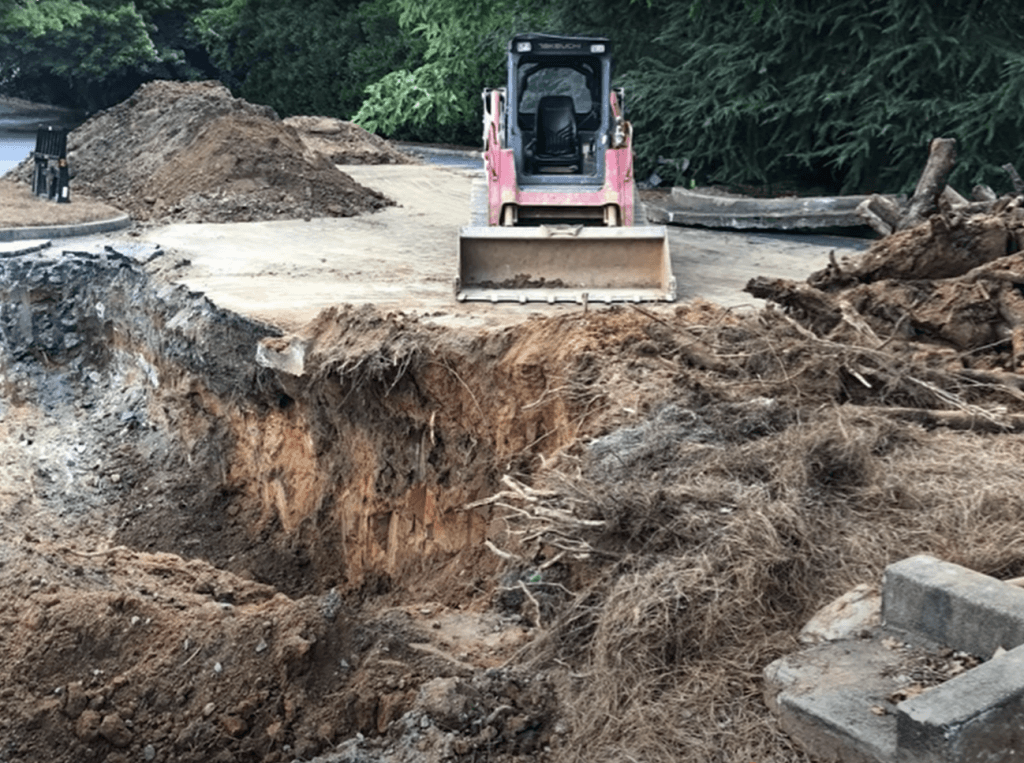 Sinkholes are extremely common around Atlanta, and they can pose a danger to both people and property. While sinkholes can be caused by natural and manmade means, most of the sinkholes we see in the Atlanta metro area are due to the collapse of trash pits. Some of these pits hail from the days before waste management when people would simply throw their trash into a designated area of their property called a tip (aka a dump or refuse pit). Unfortunately, other sinkholes have more recent origins and were created by people who should have known better!
The Causes of Atlanta Sinkholes
Many of the most troublesome sinkholes we see today on residential properties were created by the very contractors who originally built those homes, usually prior to the early 1990s. As crews cleared and excavated lots to begin construction, they would place all of the junk they removed in a pit—stumps, roots, branches, construction waste, yard debris. Once they were done, they would simply spread some dirt over the top, smooth the whole thing over, and voila! Out of sight, out of mind, and they saved a bundle on fees at the local dump. Now, decades later, those sinkholes can cause major problems for homeowners. 
Of course, we all know there's no such thing as a free lunch, and the same goes for free trash disposal. Over time, the items in those holes start to decay and compress, leading to the formation of a sinkhole. Add in natural erosion, and a sinkhole like this can be a major issue. Much like an iceberg, what you see on the surface is just a fraction of the danger from a sinkhole. These may not seem like major issues at first, but they can indicate a hidden hazard lurking below your property. 
Sinkhole Warning Signs
Tilted trees or fence posts

Sunken, crater-like areas or oddly-shaped depressions in a lawn

Cracks in the ground, walkways, patios, or driveways

Cracks in the foundation or walls of a house

Sudden appearance of a hole or depression
How We Fix Sinkholes
At C&M Residential Services, we provide sinkhole remediation to homeowners all over Metro Atlanta. It's simple in concept; we just dig out the entire original pit, remove any debris that could further degrade or compress over time, and re-fill the hole. In practice, we never know what will be waiting for us underneath the surface of a sinkhole!
Once we start excavating the original hole, we will be able to ascertain the full extent of the problem and determine how it will impact any existing structures, hardscaping, or landscaping. After completely clearing the pit, we then fill it with compacted soil or other material that will not degrade over time, providing solid ground that you can trust. 
How
Not
to Fix a Sinkhole
We recently completed a sinkhole remediation project for the Congregation Beth Hallel in Roswell. We even got a mention in the rabbi's sermon!  Below, he explains why sinkhole remediation is important, as well as the dangers of not fixing a sinkhole. As Rabbi Solomon puts it,
When it comes to sinkholes, some people try to address sinkholes cheaply… By simply putting more dirt in them, to compensate for the drop. You can fill it in so it's nice and flat, but that's a fool's errand. Because in time, it will still drop again as the rot accelerates. And more and more and more dirt will be required to fill in this hole as time goes on, my friends…The only way to fix a sinkhole right is to dig it up, clear it out, and refill it with solid, compacted soil.
In our experience with dozens of successful sinkhole repairs in Atlanta, we've seen too many times how previous attempts to add fill dirt without first clearing out the hole just made the whole mess worse. Tossing extra weight on top of unstable ground is a recipe for disaster—in construction, and in life. While we can't help you with the emotional sinkholes of life, we're more than happy to help you fix the physical ones! Give us a call at 770-509-5191 or contact us online for a quote.