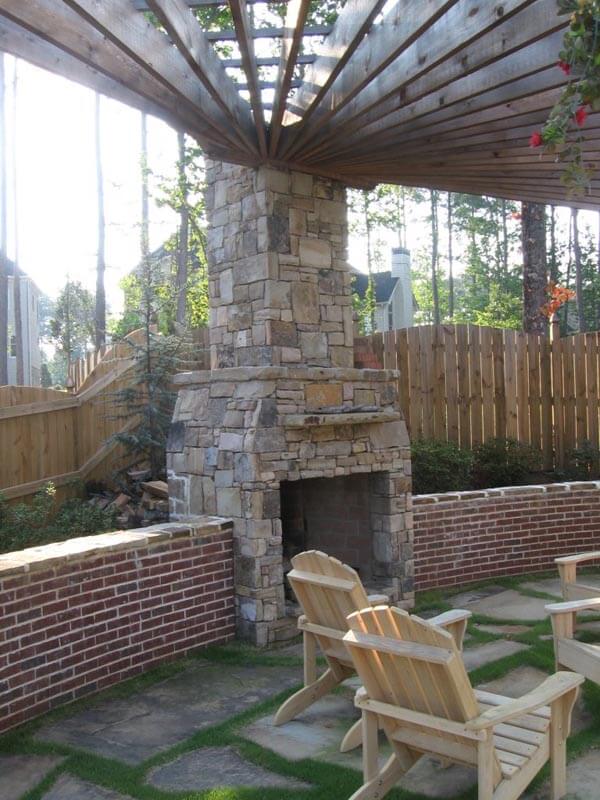 Outdoor living has been growing in popularity for years, but these days, having a comfortable outdoor space to socialize—while social distancing, of course—is more valuable than ever. When it comes to upgrading your outdoor living areas, one of the best features you can include is a fire feature. Whether it's an outdoor fireplace or a fire pit, you'll be able to use your outdoor space even when it's chilly outside, which can turn your patio or deck from a 3-season space to an almost-4-season space. So, which should you choose in the debate of outdoor fireplace vs. fire pit? Keep reading for some pros and cons from the Atlanta outdoor design experts at C&M Residential. 
Fire Pit vs. Outdoor Fireplace
Every space—and every family—is different, so there's not one "right" answer when it comes to choosing between a fire pit and an outdoor fireplace. The best choice for you depends on your unique style, space, and needs, but here are some general pros and cons of each. We're happy to help you make the best decision for you and your home, so give us a call at 770-509-5191 and let the design process begin. 
Home Style
While there are plenty of beautiful fire pit and fire table options these days that can work well in a formal space, in general, outdoor fireplaces look more polished and elegant than fire pits. Depending on the style of your home and landscaping, you might want to go more formal with a fireplace, or less formal with a fire pit. 
Space Requirements
Custom fire pits are generally circular and surrounded by seating on all or most sides, so they take up more room. Due to the open nature of the fire pit, it also needs to be built far enough away from your home to allow the wind to carry the smoke away, and of course to prevent the risk of fire damage to your home. 
Outdoor fireplaces, however, are generally one-sided and thus can fit against one edge of your deck or patio. Having a chimney also means that the smoke can be more easily directed away from your home and seating.  
If you have a pavilion seating area, you can also use an outdoor fireplace as a space divider and mount a TV to it, creating a dual-purpose lounge area for relaxing, watching the game, or enjoying an outdoor movie night. A double-sided fireplace can do double-duty, giving you both fully outdoor and covered options for relaxing. Even on a rainy day, you can relax by an outdoor fireplace, while a fire pit doesn't offer the same function in inclement weather. 
Personal Preferences
Another important factor when choosing between a fire pit and an outdoor fireplace is the general atmosphere you're trying to create. Outdoor fireplaces typically face one direction, creating an almost "living room" like effect. They offer a wonderful ambiance (and warmth), but are not particularly interactive. Fire pits, because they're round, naturally create a more interactive dynamic, making them perfect for conversation, parties, and families with kids. 
Still not sure whether to choose an outdoor fireplace or a fire pit? Well, depending on your situation, maybe you don't need to choose! With enough space, you can incorporate both into your backyard hardscaping. Get in touch with us if you're looking for an Atlanta fire pit or outdoor fireplace contracto