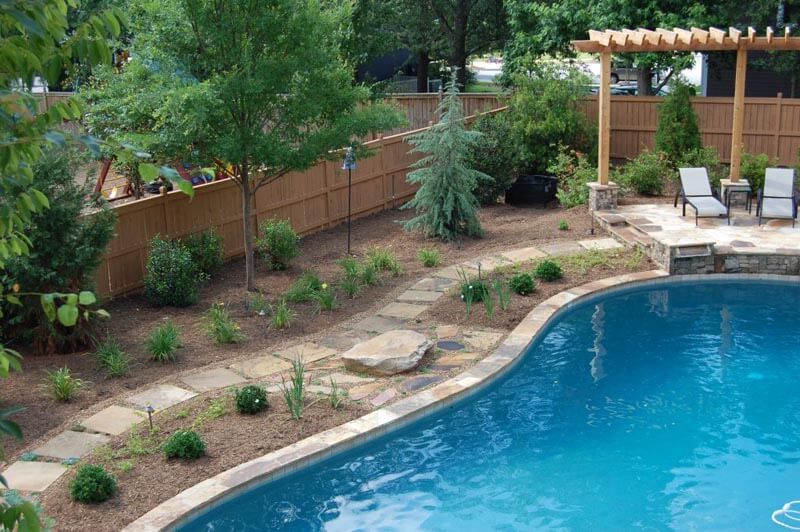 Spring's vibrant colors are starting to peek through the winter gloom, so now is the time to start any outdoor renovations you'd like to have completed before Atlanta's peak outdoor living months arrive. Get inspired with these 2021 landscaping trends and make the most of your home's outdoor spaces. We can help you bring your vision to life or craft one from scratch. Just contact us for a quote!
Our Favorite Landscaping Trends for 2021
Pool Renovations
Swimming pools are a prized luxury in the Atlanta area thanks to our notoriously hot summers, and they're even more in-demand now that people are stuck at home due to the pandemic. Fortunately, a beautiful pool area in the backyard is like having your very own resort escape, but without the nerve-wracking air travel and mandatory quarantine period. 
Of course, not all pools are created equal. If your pool is giving off roadside motel vibes, we can help you achieve that high-end resort look and feel with a pool renovation. Our hardscaping services can transform your pool deck and lounge area with brick and stone masonry, as well as custom concrete, helping to define the space and add refinement to your backyard. 
Outdoor Rooms
Pools aren't the only outdoor spaces that can use a renovation. We also specialize in outdoor kitchens, dining areas, and lounge spaces, whether you want to whip up a gourmet dinner al fresco or curl up by your outdoor fireplace with a good book. (And there's no need to choose… Why not do both?)
One of the biggest changes for 2021 is really the culmination of several years of design evolution: Outdoor living spaces that feel just as comfortable, well-appointed, and thoughtful as any room inside your house. Sports fans may want to add an outdoor TV, home chefs are living their Food Network dreams with outdoor pizza ovens, and families are bonding over game nights on their own covered porches and patios with comfortable seating, attractive lighting, and ceiling fans to keep the bugs away.  
Aesthetic Cohesion
Beyond the individual projects themselves, one of the biggest landscaping trends for 2021 is aesthetic cohesion. Our talented designers can help you create an outdoor environment that flows naturally and complements the architectural style of your home. Tying your patio, pool, driveway, retaining walls, garden stairs, walkways, and other outdoor features together with harmonious colors and materials will give your home a more polished appearance and add to its curb appeal. But more importantly, it can also help you get more enjoyment out of your landscaping. Our landscape designers are adept at the creative use of space to maximize the potential of your yard with areas for relaxing, playing, socializing, and just enjoying nature. 
Whatever your perfect yard looks like, we'd love to help you manifest it this spring! Contact us online to discuss your Atlanta landscape renovation project today!