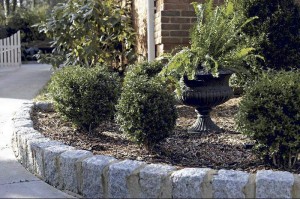 C&M Residential Services offers full service landscape maintenance and can customize the services in a variety of ways to meet the needs of any residential customer. Our maintenance program is offered in a layered approach which allows customers to select only those portions of service which provide value for them.
Basic Landscape Service
The Basic Service includes Mowing, Edging, Blowing, Weed Control, Seasonal Debris Clean up, and treating those pesky Fire Ant Mounds. The cost of Basic Landscape Service starts at under $182 per month and varies based on the average amount of time spent servicing the property each visit. Having us perform your Basic Landscape Service will allow you to spend your yard time doing the work that is more enjoyable or doing something altogether different than working in the yard.
Lawn Care Marietta, GA
We also offer Lawn Fertilization and Weed Control Service. This consists of 7 applications over the course of the year and the cost per application starts at just over $40 per application for this lawn care package. The cost of Lawn Fertilization and Weed Control is based solely upon the square footage of the lawn areas to be treated. This is a necessary part of proper landscape maintenance for those customers who desire consistently good looking lawn areas. The results of good lawn fertilization and weed control are a vibrant healthy lawn.
Premium Landscape Maintenance Services
The most popular aspect of Landscape Maintenance Service that we offer is our Premium Services. Premium Services are those services that can not be done within the time constraints of Basic Landscape Maintenance. Premium Services consist of a long list of services that are important to a well maintained landscape. We perform Premium Service both independently and in conjunction with Basic Landscape Service. Our Premium Service offerings include Tree and Shrub Care including proper pruning, mulching, fertilization and pest management; Systems Maintenance for Drainage, Lighting, and Irrigation; Annual Flower Design, Installation and Maintenance; and seasonal turf requirements including Aeration, Top Dressing, Seeding, and Lawn Repairs. For those customers who have us perform Premium Services in addition to their Basic Landscape Maintenance we offer 10% off on all Premium Services.
Additional Maintenance Services
In addition to Basic Landscape Maintenance, Lawn Fertilization and Weed Control, and Premium Services we also offer many additional services that can be performed within the maintenance department. Minor landscape improvements, plantings, stonework, and a host of other maintenance functions such as Pond Maintenance, Pressure Washing of Patios, Walkways, Driveways, Patios; Cleaning and Sealing of Masonry and Paver features; and the Cleaning and Staining of Decks, Arbors, and Fences can all be performed within our Maintenance Department at a reasonable cost and with great results.
Please call us to schedule a time to meet with one of our Qualified Professionals to see how we can meet your Landscape Maintenance Needs. Please don't forget that in addition to being a fully Qualified Landscape Maintenance Company in Marietta, GA, you will also have easy access to all of our other departments and skills including Landscape Architecture, Landscape Improvement of any make and model, Drainage and Sink Hole Remediation, Concrete and Masonry Improvements and all types of Carpentry Work. Please look further into our web site if your needs exceed what our Landscape Maintenance Department offers as there is a 100% chance that if it is an outdoor need, that we can certainly perform the work for you. We provide landscape maintenance in Atlanta, Marietta, Smyrna, Kennesaw, Roswell, Acworth, Dunwoody and Dallas, GA.