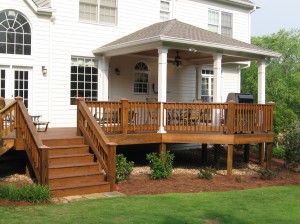 Do you have an outdoor space that just needs some TLC? It doesn't take an interior decorator to make your outdoor space beautiful, usable, and a space that you're proud to show off to your friends and family. C&M Residential offers 3 great DIY projects that will add some flair to your patio or porch without a huge investment.
Bench
When you are hosting a gathering, you of course need somewhere for your guests to sit. Rather than spending several hundred dollars on patio furniture from your local home improvement store, create your own bench. Your material list will need to include fabric for the seat cover, a piece of pressure treated 2×12 board, some mounting brackets and legs. Assemble – and voila!
Potted Flowers
Your landscape is probably full of beautiful flowers and shrubs, but bringing that plant life onto your porch will soften your living space and make it more inviting. Find unique containers like pretty old watering cans or an old wheelbarrow. Fill with your favorite flowers and remember the fail-proof container recipe: thriller, filler, and spiller.
Cool Off Your Drinks
What's a great summer party without a cool drink in your hand? Rather than pulling out the ugly blue Igloo cooler into the middle of your party, create a rolling table that doubles as a place to cool your drinks. You'll make a box out of cabinet grade plywood to fit your cooler. Attach wheels to the bottom and a hinge top and paint to coordinate with your patio. You'll have cold drinks and a great little seat or ottoman!
What DIY projects have you completed on your patio? Share them with us!
If you'd like help re-vamping your outdoor space or you'd like help improving your landscaping, give us a call at C&M Residential in Marietta, GA.