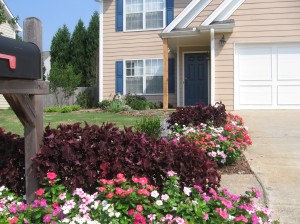 These are mistakes that everyone has made, time and time again. Whether you are a novice gardener or a landscape designer learning the ropes, you will make these mistakes – unless you learn them before you commit them. C&M Residential shares 3 of the most common landscaping mistakes, and how to avoid them in your Marietta, GA yard.
1. You Think Too Straight
There are no straight lines in nature. There are no perfect circles in nature. There are also no 90-degree or 45-degree angles in nature. Take the hint – don't create your landscape design with these shapes and strict structures in mind. Instead create beds with flowing, curving outlines. Whether this is your bed next to your foundation (make it a semi-circle) or a collection of bushes next to your curb (make the edges sweep in flowing curves), just don't try to plant in a straight line!
2. You Have Too Much Grass
Stick with this rule of thumb: 2/3. The more grass you have, the more you have to mow. Stick that play set in the middle of your lawn and guess what – you're going to have to weed eat around it. Instead, create large, sweeping beds all throughout the perimeter of your landscape and around the foundation of your house. Help visualize the area by laying out the concept lines with flexible rope, then let the design evolve from there.
3. Out With the Old, In With the New
Those shrubs next to your driveway threaten to scratch your car every time you park. That 50+ year old tree in the front corner of your lawn is looking like it might be found on your roof during the next storm. You really don't care for the pines that are sprouting along your back fence. It's time – rip them all out! Don't feel remorse or guilt over ripping out landscaping that simply isn't working for you or toward the design that you envision.
Stick to these rules and you will be on your way to cultivating a beautiful landscape in your Georgia yard. Still need help? Give us a call! We have over 40 years of experience in landscape design and can help you create a design that will be beautiful, low maintenance, and will cater to your lifestyle.