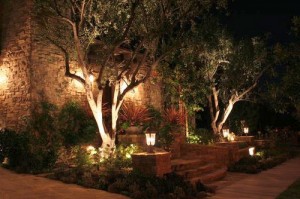 Ready to make your yard more attractive and add some curb appeal this fall? C&M Residential can help you with two extremely effective, but low cost options to get you closer to your goal.
Add Professional-Grade Landscape Lighting
You can even display the beauty of your landscape and structure at night by installing landscape lighting. These features can up-light landscape specimens such as key ornamental trees. Landscape lighting techniques can also light walkways and provide a soft light on your structure to draw attention to its unique architecture. You may want to draw attention to decorative accents, stonework, or even create unique shadows and silhouettes of plants. While you may be tempted to save a little money and run to your local big-box store to grab some fixtures, know that professionals don't use these materials. They have access to fixtures built with better components that will last longer and withstand the elements to keep their beauty longer.
Create a Landscape Maintenance Plan
The last thing you want is for your hard work to be undone in a few short months. Make sure you create a plan to trim your shrubs and cut back perennials and grasses throughout the year to keep them looking tidy. Likewise, be sure your landscape beds don't become overrun with weeds by keeping on top of them with weed control materials and a fresh coat of mulch each year. If you don't have time to keep up with these tasks, hire a landscaping service to perform the landscape maintenance work when it is advisable.