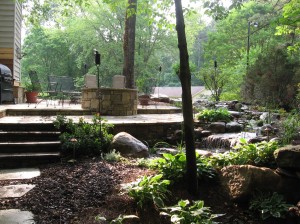 The trend in 2015 is seeing people spend more time outside – which is driving people to do more outdoor renovations. Let's look at the numbers from last year and see how they affected overall landscape design industry trends.
People spend a lot of time outside. Over 50% of people stated that they spend 6 or more hours a week enjoying their backyard landscaping. In fact, 25% spend over 10 hours each week there. That's like spending an entire workday of your week out in your backyard! I personally would love to work from my paver patio with a laptop than come to the office!
People are doing some major work to their outdoor living spaces. Over 60% of homeowners perform outdoor renovations in their backyard. These projects are substantial, with 87% of them being significant to completely overhauling their backyard. Vacations are becoming stay-cations for some people. Instead of spending all that money for renting a beach house this summer, why not invest it in a new landscaping project and enjoy it all year, not just for one week?!
The main reasons for backyard landscaping projects vary. The front runner is that these projects often occur to renovate the recent purchase of a home, a lot being from deteriorated features such as crumbling patios, dilapidated decks, or overgrown shrubbery. That's one of the first improvements I made to our home when we purchased it. Only 2 trees remained and I tore out all the broken, ugly shrubs, and gave it a look that is unlike my neighbors'. A good portion of projects also come from a desire to change backyard landscaping spaces or because family changes have happened. Maybe the kiddos are done toddling and now need a nice place to play while you watch them from your new patio?
Have you recently done a backyard renovation, or have one planned for the upcoming year? Let C&M Residential help you design an excellent space for you to enjoy!