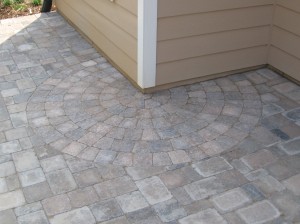 Patios are the perfect place to enjoy an early morning cup of coffee while you watch the birds flit to and fro your feeders – or host a fashionable shindig with your friends and family to celebrate the summer holidays. But, if you have not chosen the right material for your patio, you may have a maintenance nightmare or just completely blown your intended budget for your project. C&M Residential offers some pros and cons to common patio materials.
Flagstone
This is probably what comes to mind when you are thinking of a classic patio. These stones have been created by the gradual accumulation of layers of sand, clay, minerals, and organic sediments over hundreds of years. Because of the way they were formed and simply the type of material they are – organic – they tend to have various issues. Flagstone has an irregular surface and edge shape it is also a permeable surface so it tends to grow mold and mildew over time.
Clay Brick
The only downside to brick is its cost, other than that, it's a perfect option for laying the foundation and flooring for your patio. It comes in a variety of colors so you can match it to your home or other surrounding structures. It is fired to meet specific grades so make sure you purchase outdoor brick rated to your location – otherwise it may crack under extreme freeze-thaw cycles.
Patio Pavers
Patio pavers come in too many varieties to name, which makes them a great option for many patio projects. They are made of everything from natural stone to concrete to recycled products so you can choose the paver that is both going to look best on your patio and fit your budget.
Do you want to hear about the options for adding a patio in your Woodstock, Ga landscape? Call us today for an estimate!