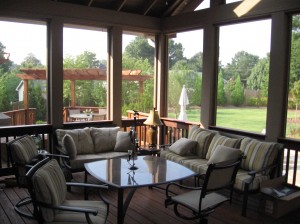 Screened in porches are the most economical rooms you'll ever add to your home. When you're ready to build, C&M Residential will build the custom deck or screened in porch that is right for you and your family.
Make it Look Original
We've seen many porches that look like they were taken off of one home and awkwardly stuck onto another that was a completely different style. When porches are added to a home they should blend in with the original structure as if they were built with the rest of the house. C&M Residential creates porches and decks that blend into your current home and rather than looking like an "add-on" appear as a beautiful extension of your home.
Things to Consider
A screened in porch is way more than simply a deck with screens around you. C&M Residential will help you decipher the nuances of adding a beautiful and functional screened in porch to your home. For example, if the porch is going to affect the light coming into the attached rooms, you may want to consider a sunlight. Vaulted ceilings and a ceiling fan help keep the room cool and comfortable for summer enjoyment. Add an outdoor fireplace to warm up your outdoor sitting area in the cool of fall and winter.
For more information about screened in porches and custom decks, call C&M Residential. We'll come out to your home and talk to you about your options, and work with whatever budget you have in mind.