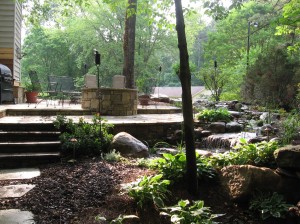 C&M Residential offers landscape design – but we do more than simply drawing up plans of where to plant your favorite gardenia bushes or new river birch trees. We take into account the whole picture of your home and yard with a "construction" design approach. But, there are so many times when we work for customers that have major underlying issues with the construction of their landscapes and outdoor rooms. Here are the top 3 that we see on a regular basis:
1. Not Connecting Indoors to Outdoors
This can mean a wide variety of things including considering the view of your yard from your windows, how you will access your landscape, and how you will be using the combination of the inside and outside of your home for gatherings, family events, or general use. Effectively connecting the interior design of your home to the exterior design of your home will make your landscape feel like an extension of your living space – which means you'll probably use it more!
2. Overlooking Exterior Lighting
When you envision your landscape, you probably think about the way it looks during the day – but it's still there at night too! Adding appropriate landscape lighting will give added curb appeal, allow for night time use of your yard, and make your new plantings really 'pop.'
3. Forgetting that Storm Water Needs a Place to Go
A 4,000-square-foot home will, in the course of a year, have 100,000 gallons of water run off its roof. Where do you think this water is going? Make sure that you have specifically planned for the amount of water that can come from popup Georgia rainstorms to keep it from damaging your turf and landscape.
4. BONUS: Laying Faulty Foundations for Walkways and Driveways
C&M Residential does a lot of repair work on homes in Marietta, Roswell, Kennesaw, and surrounding areas. Many of our repairs are on walkways and driveways for issues that could have been avoided if only the proper prep-work was done when the area was installed.