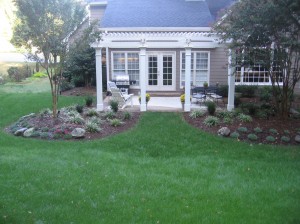 Landscape design is an art form. An excellent designer knows how to use basic design principles, pair them with an understanding of plants, and produce a beautiful design that portrays the personality of the home owner. So, what if you want to try to design your own landscape? Here are a few basic principles that you should keep in mind.
Unity
Unity in the landscape refers to the perception that all the components of the design work together in harmony. Unity is achieved by selecting plants that complement each other, placing and grouping those plants effectively, and repeating elements in the design.
Symmetrical asymmetrical balance
Symmetrical or asymmetrical balance create an overall sense of equality in the landscape. A line drawn through the middle of a symmetrical design would have identical placement and choices of plants on both sides. Asymmetry requires more of a "gut feeling" of balance rather than a formula or rules. It uses one large 'weight' counteracted by several smaller 'weights'  to result in a balanced appearance.
Placement of Elements
Framing the House
The main focal point of your design is the front door of the house, so placing your plants in a way that they frame the front door helps draw attention there. For example, plant large trees and srubs on both sides, and plant progressively smaller shrubs and you approach the door.
Extending Beds
Often, homes are placed in the middle of a lot, leaving the front lawn as an open hole of grass. Then, shrubs are planted just along the foundation of them home leaving the house feeling disconnected from the rest of the property. The easiest way to solve that issue is to simply extend the beds several feet out into the yard, and curve them around the corners of the home.