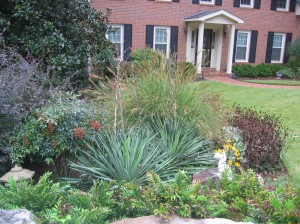 The beginning concept of new landscape design projects most always take their styles based on the style of a home, personal and family needs, and the personality of the owner when possible. Beginning with a theme in mind and a complete finished plan will help keep the project on track as well as create and maintain unity between the home, landscaping, and garden.
While there are several different landscape design styles that are quite popular and used a lot in most landscaping and garden designs, they are not limited to a strict and selected list of types and themes. Still, most people try to at least start with a theme that will match their home style and geographic area.
Cottage Gardens
Cottage gardens were originally created for raising crops to sustain families. However, over time, they have taken on a whole new appearance and use. Originally, flowers were few or established only by blown in seed. Still, even though a lot of the time this style still makes room for kitchen, herb, and vegetable gardens, it has become a more popular type of flower garden.
Formal Gardens
Formal landscape design depends a lot on straight lines and geometrical shapes. Many times this style is very symmetrical. Plants are in order and continually pruned to maintain their formal effect.
These are only two of many landscape design styles. Be sure to drive through your neighborhood, look through your favorite garden magazines, and familiarize yourself with the options availabe, before you set your mind on a specific theme. Talking to a landscape design expert at C&M Residential will also help you choose the style that is not only going to be appealing to you, but is also going to suit the lifestyle needs of you and your family.