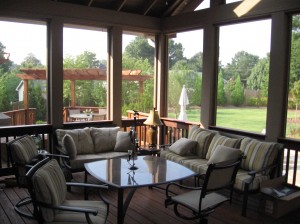 Winters in Georgia can be tough and we are sure that you're ready for some warmer weather at this point. How about adding a new patio to your landscape to relax as soon as the spring temperatures get here? Before you get started with your design, make sure you include the following aspects to be sure that you'll be happy with the final result.
Plants
Plants are one of the most popular features to install with a patio area, and there are several good options to choose from.
Drought-tolerant flowers like lantanas, marigolds, salvia and zinnia will give you seasonal color that pops during the summer.
Water Features
Water and its tranquil sounds have been shown to give our brains a rest from overstimulation. A water feature drowns out voices, city sounds and other noises, so people can relax and think more deeply.
The sound of a water feature will help employees' brains switch to a different mode, helping them meditate and think more creatively.
Shade
One important element is having shade, whether that's with pergolas, sails, umbrellas or awnings. The whole patio doesn't have to be shaded, but make sure there are certain areas with shade. It gets hot in Atlanta during the summer, so shade is an important element for making the patio a place people can go all year.
Privacy
Beyond plants, you can install hardscape features like retaining walls or stand-alone walls. These can be made of wood, stone, brick or a combination of materials to complement your building.
To soften up the walls, turn them into vertical gardens by installing plants on them. This green wall will also add texture and color to your outdoor area, in addition to making the space more natural.
Seating
You should also add tables and comfortable seating — like chairs, rockers or benches — to the patio. It's not very comfortable or practical to try and eat lunch on the patio without both of these things.
Benches are popular sitting features.If the benches don't have backs on them, make sure they are against structures to provide back support.
Landscape Lighting
You can downlight the patio from trees or even from the side of your building. If there's a walkway that leads to the patio space, you can illuminate that with path lights.
With these elements in mind, you'll have the perfect patio for you and your family to enjoy all spring and summer long!