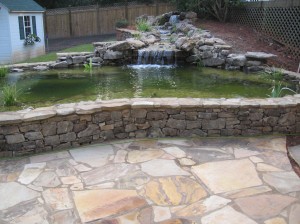 You're trying to decide between concrete pavers and laid stone for your patio. There are pros and cons to each. Let C&M Residential explain the difference so you can make an educated decision.
Concrete Pavers
Concrete pavers offer a wide range of styles — from modern to classic —that are beautifully suited to many patios, outdoor kitchens and pool areas and offers many choices for designs. Classic style pavers that mimic the look of brick are a popular choice for traditional and historic style homes because it is the ideal paving material if you want to create an established and authentic look. But the modern style — with irregular shapes and precision cuts — can be used in modern and Mediterranean landscapes as it is easy to adapt for use in more contemporary designs.
Cons – require lots of grading to install and can be costly if there is a lot of preparation work in the area where they are being installed.
Natural Stone
It can be difficult to choose the best stone for patios — as you have a lot of options when it comes to natural stone pavers. You can choose flat-topped uniform stone or rough-edged irregular shapes. Natural stone pavers can be made of slate, flagstone, travertine, and limestone — colors vary naturally and offer a rich, textured, earthy appearance. Stone quarried in Idaho tends to be high in iron, so natural colors skew more towards oranges and blacks.
Cons – extremely expensive to purchase and hard work to install.
So, which do you choose? Start with your budget and work from there. Either way – calling a professional is going to make this job substantially easier. We are here to help!