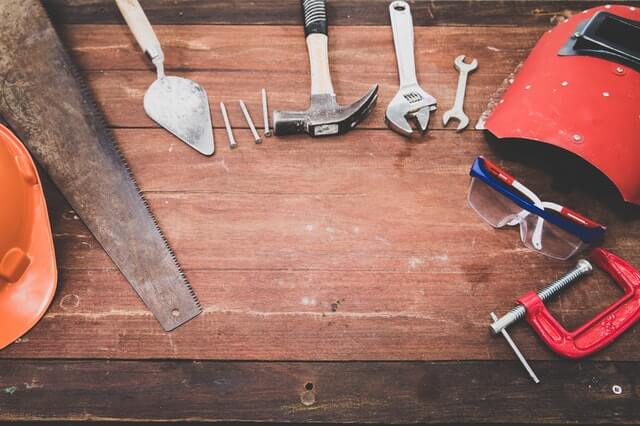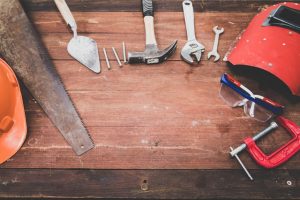 Georgia's shelter in place order has only been in effect for a few days, but for many folks, cabin fever is already setting in. As we all stay home to flatten the curve and slow the spread of the novel coronavirus, those Netflix queues are getting shorter, snack reserves are shrinking, and the days can seem never ending. If you're looking for something to get you off the couch and out of the kitchen for a few hours, you're in the right place! 
Here at C&M Residential, we're obsessed with making our clients' homes into havens—and wouldn't it be nice to have that feeling while you're stuck at home indefinitely? Put that spare time to good use by tackling some DIY home projects that you've never gotten around to. You'll be glad you accomplished something productive, and it will make your quarantine that much more pleasant. 
DIY Home Projects to Tackle While You Stay Home
Upgrade your entryway.
There's nothing like being stuck at home with your spouse, kids, and pets to make you notice how much stuff you have. Being in such close quarters all the time can be tiring, but it can also help you see the parts of your home that are not working up to their potential. For many families, the entryway is one of the usual suspects. 
Give your entry or mudroom a makeover by adding hooks, shoe storage, a boot tray, and if you have room, a place to sit for taking shoes on and off. You may even have what you need at home already, so "shop" your house and garage for items before you jump online to order anything. 
Organize your Drawer/Closet/Room of Shame.
We all have that one area of our homes that we'd rather not claim ownership of. For some, it's just a "junk drawer" here or there, for others, it's a closet, attic, or a whole bedroom! Whatever your junk spot is, now is a great time to tackle some organization projects. 
Hang those shelves you've had sitting in the corner for months.

Take a look at the items in the space and decide what you want to keep or get rid of—then consider whether or not you have adequate storage. Do you need to purchase something to keep the area in order, like a bookshelf, wardrobe, or drawer organizer? 

Use this time to list any items you want to sell on Facebook Marketplace, Poshmark, eBay, etc. 
Do some spring cleaning.
While it's the least appealing of these project ideas, spring cleaning can also have the biggest impact. You're probably already doing a lot of disinfecting due to coronavirus, but you can also tackle some of the deep cleaning tasks that are so easy to put on the back burner. For instance:
Wipe down your baseboards.

Change air filters and clean vent grates.

Dust the top of your ceiling fan, bookshelves, cabinets, windows, and other hard-to-reach areas. 

Wash your windows so you can enjoy at least

looking

outside. 

Clean under beds and sofas.

Vacuum out your dryer vent. Neglecting this (admittedly annoying) chore can cause a fire. According to the

U.S. Fire Administration

, failure to adequately clean the dryer is the leading cause of dryer fires in the U.S. 
Freshen up your outdoor areas.
Remember that while you're stuck at home, you don't have to be stuck inside. Spruce up your outdoor areas so you can enjoy the beautiful spring weather before it gets so hot. Plus, taking care of it now means it will be all ready to go once you're in summer cookout mode!
Pressure wash decks and patios if needed. 

Clean outdoor furniture and perform any maintenance needed, like oiling teak items. 

Empty and clean planters and check for cracks or damage. If you do them all at once, you can more easily evaluate what you have and what can be stored, donated, or thrown away. 
While you're spiffing up your outdoor living spaces, think about what's working and what could use improvement. Interested in making some changes? Contact us to discuss your projects, from landscape architecture to custom decks to landscape lighting, and so much more.