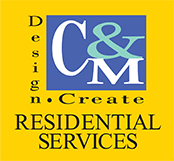 It's hard to believe, but we recently celebrated our 30th anniversary here at C&M Residential! We're grateful to have been able to do what we love for the past three decades, and best of all, we're still going strong.
Helping Atlanta homeowners create beautiful, livable outdoor spaces is our passion, and over the years we've expanded our services from landscaping to nearly "anything outdoors." We now provide everything from landscape architecture and hardscaping to sink hole repair and specialty carpentry for decks, fences, arbors, and more. Chances are, if it's outside, we can help you bring your vision to life. 
Unlike most Atlanta landscaping companies, we have a team of skilled, specialized full-time employees, minimizing the need to use outside contractors. Keeping our projects entirely or almost-entirely in-house allows us to execute projects efficiently and with minimal hassle for the client, as well as maintaining consistently high quality in our craftsmanship and customer care. 
Thank you to each and every one of our clients from the past 30 years who have trusted us with your homes! We don't take that responsibility lightly. Looking back at 30 years (and counting) of projects throughout Atlanta, Marietta, Roswell, Sandy Springs, Dunwoody, East Cobb, and elsewhere in metro Atlanta reminds us of how many homes and families we've had the privilege to serve. Our hope is that the decks, dining areas, and other outdoor spaces we build will bring you many happy memories with friends and family for years to come. 
For those who are interested, here's a brief, first-hand history of how C&M Residential Services evolved into our current form, from our founder and president Michael Staley.
I went to get a business license in February of 1991. They said, "What is the name of your company?" to which I replied, "I gotta have a name?" And of course I did, so I had to come up with something! I had a roommate and buddy named Charles, so I made up a name right there at the counter. "Just call it C&M Landscaping." 
The name changed twice over the years, first to C&M Landscape Company when I incorporated a few years later, and then to C&M Residential Services a little later. I wanted to separate myself at least a hair from the landscaping industry and indicate that our services are much more comprehensive than just mowing lawns and planting flowers. 
Funnily enough, my fellow namesake for the business, Charles (the "C" in C&M) only ever worked with me for about 60 days. He said it just wasn't his thing to work until "dark 30" every day! 
Years later, my office manager told me she was moving to Florida due to her husband's job relocating, and the search was on for a replacement. At the same time, my father, Carl, had recently retired. My wife told me she was worried about him because he was obviously very bored. That's when it hit me: I had the perfect office manager right in the family! I called him and said, "Don't you want to come be my office manager?" He paused and said, "Absolutely!" It just made sense, and even fit the business name—Carl and Michael Staley working together at C&M Residential Services.

We're ready to put our 30 years of experience and skill to work for you, so contact us for more information!