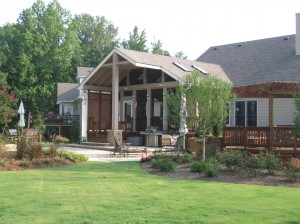 Your design is in hand, your materials are on the trailer, your tools are all laid out, and you're ready to start working on your outdoor renovation. Are you sure you have everything you need? C&M Residential wants to remind you of a few items that home owners most often forget when they are working on exterior construction projects.
Home Owners Association
When you live in a neighborhood, there is often a home owners association made up of home owners (just like yourself) that create and enforce rules to keep your neighborhood community operating smoothly and retaining as high of a real estate value as possible. Many times these rules include what kinds of structures you may build on or around your home, paint colors, allowed construction hours, and general home appearance guidelines. Make sure you talk to your HOA before you start building otherwise they might interrupt your process.
City or County Permitting
Just about all types of construction requires permits. Every city, county, and state is different so it's a good idea to visit your local permitting office to review your construction plans and apply for any necessary permits before you start work. If you are found to have completed construction after the fact, the county could place a stop work permit on your job site or issue hefty fines.
Utilities
Easily forgotten – until you accidentally cut the internet cable to your house. Call appropriate utility providers or reference your own records before you just start digging. Your home is surrounded by cables, electricity, and water pipes. Interfering with any one of these unintentionally would be destructive and costly at least, deadly at most.
Would you rather not have to deal with all of this headache? We understand and that's why we are here to help! C&M Residential can apply for many permits for you, or guide you through any process that requires the homeowner's action before we start working on your project.